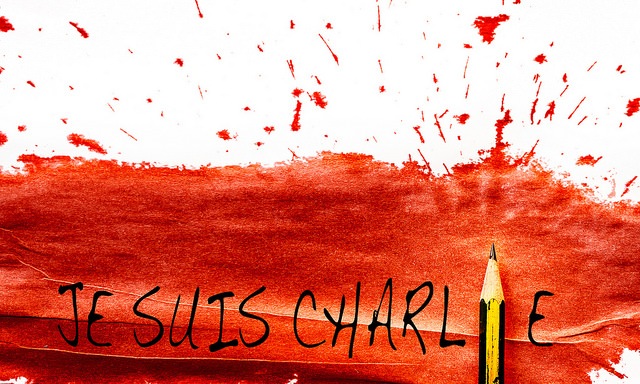 The horrific massacre in Paris, in which Islamic terrorists systematically targeted and gunned down journalists, cartoonists, and policemen at the satirical magazine Charlie Hebdo in revenge for its mockery of Islam, has shocked Europe by its barbarism and its symbolism.
A core Western value, freedom of expression, was snuffed out with contemptuous ease along with 12 innocent lives, among them some of France's most iconic and beloved cartoonists.
The emotion behind the "Je Suis Charlie" demonstrations, as an expression of solidarity with the murdered Charlie Hebdo staff, was very understandable. But did anyone actually mean it? For what Charlie Hebdo did was what very few people have ever done. In continuing to publish its scurrilous images of Islam and Islamists, Charlie Hebdo had refused to be cowed by Islamist terrorism.
Plainly, therefore, very few people indeed mean to say "Je Suis Charlie" (I am Charlie), since the media response to the massacre has been carefully to obliterate the images Charlie Hebdo published that so offended radical Islamists.
The French have also been declaring defiantly that free speech will never be surrendered. But there has been no free media expression about Islam ever since the 1989 Iranian fatwa calling for the murder of Salman Rushdie over his book, The Satanic Verses.
That was when the West surrendered. In Britain, people supporting Rushdie's murder were never prosecuted. As his book was burned on British streets, establishment figures turned on the author for having offended Islam.
In 2006, riots following the publication of the Prophet Muhammad cartoons left scores dead around the world. But virtually every media outlet – except for Charlie Hebdo – refused to republish them.
In 2004, the Dutch filmmaker Theo van Gogh was murdered on a Netherlands street for making Submission, a film criticizing Islam. In 2012, Lars Hedegaard, who founded the Danish Free Press Society after the Muhammad cartoons affair,was shot point blank on his doorstep, although he miraculously survived.
To all these outrages, the West, and especially liberal America, responded by blaming the victims for provoking their attackers. After the Paris massacre, commentators on CNN observed that Charlie Hebdo had been "provoking Muslims" for some time. On The Financial Times website, Tony Barber wrote that "some common sense would be useful at publications such as Charlie Hebdo… which purport to strike a blow for freedom when they provoke Muslims, but are actually just being stupid."
The fact is that Islamic terrorism and intimidation against the West have been going on for decades, matched by displays of Western weakness which merely encourage an enemy it refuses properly to identify.
Over and over again, the West denies that these attacks have anything to do with Islam. First it blamed poverty and exclusion among Muslims. Then it blamed grievances around the world – Bosnia, Chechnya, Kashmir, Palestine, Iraq, Afghanistan, etc. Then it blamed isolated madmen whose Muslim identity was irrelevant.
continued on next page…