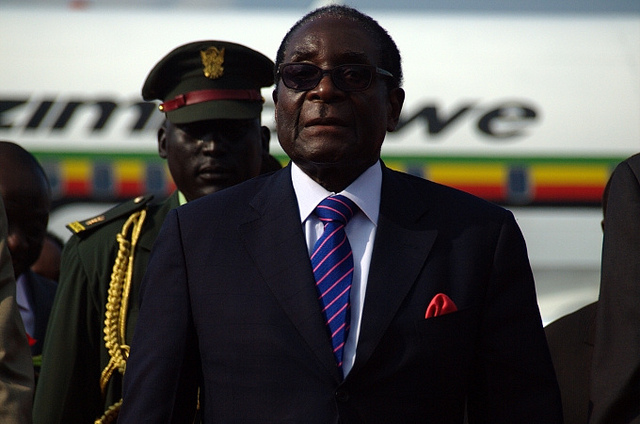 Photo by Al Jazeera English
10. President Robert Mugabe of Zimbabwe
Although not exactly a historical leader, President of Zimbabwe Robert Mugabe is a relic from the failed past and one of the "best" examples of how to ruin a well functioning economy in quick and easy steps.
After a bloody civil war, the black majority took charge of Rhodesia in 1980, which was renamed Zimbabwe. A nationalist leader and Marxist terrorist, Robert Mugabe, became President.
Rhodesia was one of the most prosperous countries in Africa. Mugabe inherited a country with extensive infrastructure, advanced agriculture, and vast natural resources.
The country's economy used to be the fastest growing in all of Africa; now it is the fastest shrinking. At one time it was a net exporter of corn, cotton, beef, tobacco, roses, and sugarcane; now it exports only its refugees and emigrants, who are fleeing by the tens of thousands. Although Zimbabwe has some of the richest farmland in Africa, malnutrition and starvation are now commonplace.
Mugabe destroyed the nation's productivity, played the race card to incite violence against the white minority who were the country's engine of growth, expropriated farmland, crushed dissent, created an atmosphere of lawlessness, caused an astronomical rate of inflation, scared off foreign investors, invaded the Congo, committed a genocide against the Ndebele people, and allowed HIV to infect a third of the population of Zimbabwe. Life expectancy dropped as a result, from 56years-old in the early seventies, to an abhorring 35 years-old today.
The future of Zimbabwe is grim. As long as dictators like Mugabe are tolerated by their own people and the outside world, as long as they are allowed to blame their own disastrous policies on Western imperialism and colonialism, while receiving and squandering foreign aid, the Mugabes of the world, under different names and different disguises will keep happening.