Every election cycle the calls will be heard: Americans demand a third party! The two party system has to go! Only they really don't want a third party and American politics will always be dominated by two major parties.
First, let's set the record straight. There are more than two political parties in the United States. There are dozens. Nobody votes for them, but the fact remains that if Americans really wanted another party in control, they already have options. There's the Judicial Party, Socialist Party, Libertarian Party, Constitution Party, Conservative Party, and the Green Party, to name a few.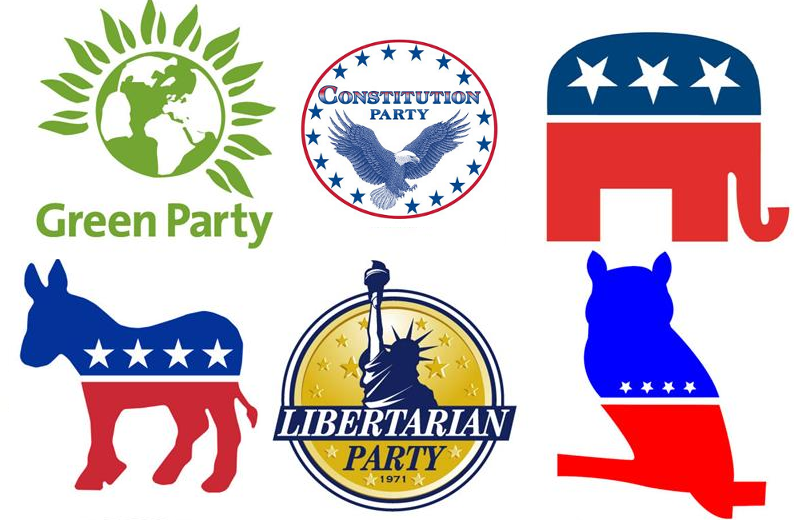 Many people will be jumping at the chance to show polls that prove 60% of Americans want a third party. But they don't… Sure the polls may say that, but it isn't true. Imagine you have a chicken sandwich and a cheeseburger and you asked every American to choose between the two. Many would bemoan that they don't want either option. Now present a third, undefined, unknown option: cheeseburger, chicken sandwich, or whatever you want. The majority of Americans would probably choose the third, undefined option, because they imagine it to be exactly what they want. But those people would never be able to agree on what the third option should actually be.
This is what happens with third party polls, voters imagine a third option that perfectly represents their views. Unfortunately, America is so diverse that even popular opinions are only shared by so many. The Republican and Democratic Parties are successful because they are big tent parties; meaning they attempt to welcome people who are of varying ideological stripes. They know that they need a compact majority to win elections and you can't do that with a strict ideological makeup.
Elections are, after all, a majority wins affair. 51% or more wins, and without winning nothing gets done. So let's imagine, for argument's sake, that 60% of Americans did form a third party. The majority of the remaining 40% would have to unite together if they were going to stand a chance to compete in elections. Thus we would, yet again, be left with two dominant parties.
Parties are not stagnant institutions; they evolve and change. The Democrats were once the party of the South, and the Republicans of the 60's had little in common with the neocons of the Bush era. Because of their big tent nature, there will always be in-fighting, and they will always change. Saying America only has two options politically is to ignore the varying ideologies that the two major parties consist of and to pretend parties and platform never change.
Being a free society, anyone can form a political party. Of course, Americans are also free not to vote for marginal candidates who have no chance of winning. And if they did win, they would soon become one of two major parties, like the GOP—which was a third party when it started. In a majority rules system, there can be only two.